Downpatrick secure all three points with a hard earned victory away to Derriaghy, click on the link below to read more…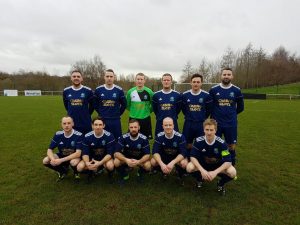 Saturday 25th February – NAFL Premier Division
Derriaghy CC 0 v Downpatrick FC 1
Downpatrick travelled to Derriaghy on Saturday and produced a work manlike performance, grinding out a win despite playing the entire second half with ten men. The visitors started off the game in cautious fashion, with their passing at times very slack, this allowed the hosts to gain confidence.
Both sides failed to create any chances in the opening twenty minutes, then two minutes later Mark Holland pressurised the Derriaghy keeper into conceding a corner. Neil Taggart took the corner and his perfect delivery was met by Ricky Kerr at the near post. The midfielder directed his header from ten yards into the far top corner to put the visitors in front.
Downpatrick were rejuvenated after the goal and started to put Derriaghy under pressure, they had a number of opportunities to double their advantage but Tony McIlhone and Aaron McGarry saw their efforts saved. As the game entered the forty-fifth minutes the referee controversially sent of Downpatrick's Barry Holland in a case of mistaken identity.
Half Time: Derriaghy CC 0 v Downpatrick FC 1
At half time Downpatrick reshuffled the team with Mark Holland reverting to the defence, and almost immediately they signalled their intent to continue pushing for more goals. Striker McIlhone found himself one on one with the Derriaghy keeper and agonisingly saw his effort go narrowly wide.
Derriaghy huffed and puffed to try and get back into the game but the defence of Barry Fitzsimons, Taggart, Holland and Blaine Connolly were in control as they gave their keeper Michael McKenna a quiet game. Making his first start after a long injury lay off midfielder Andy Baggley put in a sterling performance breaking play up and playing the simple balls to the other players.
Downpatrick had a few chances in the second half to make sure off all three points but winger Terence Bell saw his efforts blocked or saved by the home keeper. Downpatrick were always in control in the second half and comfortably saw out the game which somehow included over ten minutes of time added on by the referee to bring the three points' home.
Downpatrick: 1) M McKenna 2) B Fitzsimons 3) B Connolly 4) B Holland 5) N Taggart 6) A Baggley 7) T Bell 8) R Kerr 9) M Holland 10) T McIlhone 11) A McGarry 12) N Walsh 14) P Traynor 15) P Telford