Downpatrick suffered defeat with a last minute goal on Tuesday night by Ards Rangers, click on the link to read more…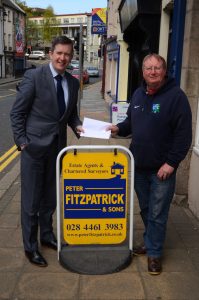 Tuesday 10th May – NAFL Premier Division
Downpatrick FC 1 v Ards Rangers 2
Downpatrick's impressive unbeaten run came to an end on Tuesday night at the hands of last seasons champions. This game was entertaining and provided the large crowd with plenty of excitement as the play swung from end to end.
Downpatrick started the game on the front foot and had plenty of opportunities in the opening thirty minutes. Top goal scorer Stephen Galbraith and strike partner Philip Traynor saw their shots well saved by the visiting keeper and centre half Mark Holland had a header cleared. Jamie Sharvin thought he had scored the opening goal with a speculative strike from inside his own half but the referee pulled the play back for a free-kick.
The home side took the lead shortly before the half hour mark, Aaron McGarry took the ball down the left wing before linking up with Traynor for a one-two. The winger then cut inside on his right foot before unleashing an unstoppable shot from twenty-five yards low into the back of the net. Ards Ranger showed their striking threat with some direct play which kept Matthew Carson and Holland on their toes to keep the visitors out.
Half Time: Downpatrick FC 1 v Ards Rangers 0
The second half started the same way as the first with Downpatrick on the front foot. On the fifty minute mark Downpatrick almost doubled their advantage when Peter Telford point blank header was saved on the line. Traynor and Galbraith also had chances to score but Philip Traynor's was saved and Stephen Galbraith came back of the underside of the cross bar.
Ards Rangers began to grow in confidence and exert more pressure on the Downpatrick defence of Barry Fitzsimons, Carson, Holland and Blaine Connolly. Ards Rangers won a free kick on the left hand side, the ball was delivered to the back post and was partially cleared. Craig Campbell who had just come on as substitute controlled the ball and fired a low shot into the bottom corner past the hapless Michael McKenna.
Both teams new that a draw wasn't any good to either team and the game flowed from end to end as chances came and went. Then with just two minutes left on the clock Rangers got a throw in which was launched into the box. The ball ricocheted of a few players in the area before falling to Ricky Rutherford who poked the ball home and secure all three points for his side.
Downpatrick: 1) M McKenna 2) B Fitzsimons 3) B Connolly 4) M Holland 5) M Carson 6) J Sharvin 7) B Treacy 8) P Telford 9) S Galbraith 10) P Traynor 11) A McGarry 12) T Bell 14) N Walsh 15) C Holland
Match Sponsors: Peter Fitzpatrick & Sons Estate Agents, Downpatrick