Downpatrick got back to winning ways on Thursday night away to Nortel, click on the link below to find out how…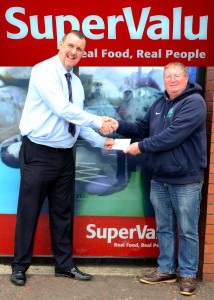 Thursday 12th May – NAFL Premier Division
Nortel FC 1 v Downpatrick FC 3
Following Tuesday nights defeat the Downpatrick management decided to make a number of changes to the starting eleven by resting strikers Stephen Galbraith and Philip Traynor, along with winger Aaron McGarry. The unavailability of goal keeper Michael McKenna meant that Peter Telford had to deputise between the sticks.
These changes led to a disjointed opening from the visitors which allowed Nortel to capitalise on. The home side were keeping the Downpatrick defence under some pressure and when they cleared the ball and tried to push out and ball over the top caught them out and with a hint of offside the Nortel striker was through on goal. The striker had the calmness to slot the ball under the advancing Telford in the Downpatrick nets.
Downpatrick didn't panic and set about playing their passing game with Jamie Sharvin and Adrian McCoubrey controlling midfield. Both Mark Holland and Ricky Kerr had chances to score but failed to convert. Then with two minutes remaining in the half Downpatrick got back on level terms through Niall Walsh. Christian Holland took a free kick which was flicked on to the back post by McCoubrey and Walsh timed his run perfectly to send his header like a bullet into the top corner.
Half Time: Nortel FC 1 v Downpatrick FC 1
Downpatrick came out in the second half determined to get back to winning ways and had several chances to score but failed to make their possession count in terms of goals. Galbraith and Traynor were introduced around the hour mark and both players could have put Downpatrick in front but failed to find that telling shot.
As the game entered the final twenty minutes Downpatrick were awarded a free-kick on the left hand side of the box after Galbraith was fouled. Free kick expert Barry Treacy was quick to get his hands on the ball and set it up, before confidently whipping the ball into the top corner giving the Nortel keeper no chance. Downpatrick controlled the remainder of the game without creating any chances of note and didn't allow Nortel to create the opportunity for an equaliser.
Downpatrick: 1) P Telford 2) B Fitzsimons 3) N Walsh 4) M Carson 5) B Connolly 6) J Sharvin 7) B Treacy 8) A McCoubrey 9) M Holland 10) R Kerr 11) C Holland 12) S Galbraith 14) P Traynor 15) A McGarry
Match Sponsors: Supervalu, Downpatrick