Downpatrick score six against Ardglass Swifts for the second week running to secure another three points, click on the link to find out who scored the goals…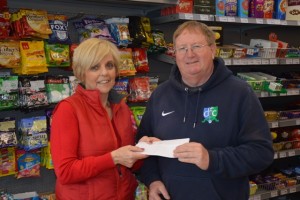 Saturday 24th October – NADAFL Premier Division
Downpatrick Athletic 6 v Ardglass Swifts
Downpatrick put Ardglass Swifts to the sword for the second week running with a fine passing display. A few changes of personnel failed to disrupt Downpatrick's play and in the opening twenty minutes they enjoyed plenty of possession without finding a goal.
Then on twenty three minutes the home side got the all important first goal, good play down the right hand side from Ryan Fitzpatrick and Adrian McCoubrey allowed the ball to be played to striker Peter Telford. He quickly played a one-two with strike partner Frank Starkey before rifling a shot into the back of the net. Downpatrick doubled their advantage two minutes later, again the play was directed to the right flank with McCoubrey, his cross was only half cleared and Ruari Fitzpatrick was in the right place to score from six yards out.
Half Time: Downpatrick Athletic 2 v Ardglass Swifts 0
Downpatrick scored their third goal from the penalty spot at the beginning of the second half. McCoubrey was fouled inside the box and Conaill Kerr scored from the penalty spot. Downpatrick had to wait until the final fifteen minutes before they had the ball in the back of the net again, this time striker Starkey was the scorer, tapping the ball into the net after good play from winger Fitzpatrick.
Substitute Paddy Kerr got his name on the score sheet with five minutes remaining, a cross into the box wasn't cleared properly and Kerr shot through the crowd giving the keeper no chance to make it five nil. The industrious McCoubrey got in on the act with a few minutes remaining, tapping the ball into the net at the back post.
Downpatrick: 1) R Hagan 2) Ryan Fitzpatrick 3) C Kerr 4) K Gracey 5) G Trueman 6) P Turley 7) A McCoubrey 8) C Magee 9) P Telford 10) F Starkey 11) Ruari Fitzpatrick 12) P Kerr 14) N Walsh 15) N Cunningham
Match Sponsors: Tels Confectionery, Downpatrick