Downpatrick Athletic secured all three points on Saturday thanks to some superb finishing, click on the link to read more…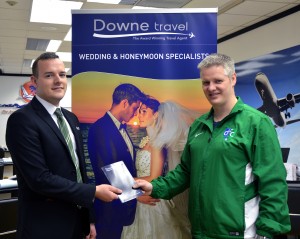 Saturday 16th April – NADAFL Premier Division
Downpatrick Athletic 3 v Carryduff Colts 1
Downpatrick welcomed Carryduff Colts to Dunleath on Saturday in a highly entertaining match. Downpatrick were able to call on the services of experienced duo Michael McKenna and Stephen Galbraith due to the first team game cancellation and ultimately this proved key, with Galbraith scoring two goals and McKenna making some vital saves.
The game started off at a frantic pace with both teams trying to assert their control and authority with Downpatrick trying to play football through the midfield. Neither team created any chances of merit until a minute before the break when Conaill Kerr scampered down the right wing and sent in the perfect cross for Galbraith to react quickest and slot the ball home.
Half Time: Downpatrick Athletic 1 v Carryduff Colts 0
Buoyed by the goal just before half time Downpatrick came out in the second half full of confidence and five minutes later they had doubled their advantage. Chris McDowell playing on the left wing was the provider and he crossed the ball into the box for birthday boy Shane Matheson. Matheson's shot was too strong for the Carryduff keeper and sailed past him into the net.
With more than half an hour left on the clock Downpatrick secured all three points and it was striker Galbraith who scored. Carryduff were trying to play the offside trap but the nippy striker cut in from the left wing before unleashing a shot into the roof of the net for a superb finish. Carryduff rallied in the remainder of the game but Downpatrick's Michael McKenna was in top form denying the visitors who were through one on one with him on several occasions.
Carryduff scored a consolation goal with five minutes remaining, Downpatrick were caught sleeping at the back and the visitors broke quickly down the wing. The ball was crossed into the box and it was the Carryduff striker who reacted first to poke the ball beyond the reach of McKenna.
Downpatrick: 1) M McKenna 2) R Fitzpatrick 3) T Bell 4) M Carson 5) G Trueman 6) C McCarron 7) C Kerr 8) A McCoubrey 9) S Galbraith 10) S Matheson 11) C McDowell 12) P Kerr 14) D Curran 15) S McMahon
Match Sponsors: Downe Travel, Downpatrick