Downpatrick progress to the Semi-Final of this years Clarence Cup, click on the link below to find out how…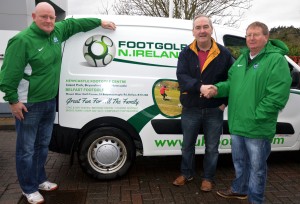 Saturday 9th April – NAFL Clarence Cup Quarter-Final
Albert Foundry 0 v Downpatrick FC 3
Downpatrick continued their run in this year's Clarence Cup with an important victory over Premier League rivals Albert Foundry Park at Paisley Park. Downpatrick's reward is a semi-final place against Lisburn Rangers in Drumaness in a few weeks time.
The visitors opened the scoring inside the opening twenty minutes, Barry Treacy swung in a corner which Foundry could only clear back out to the winger. He sent his cross in first time and as Peter Telford contested the ball with the home side keeper the ball fell to the feet of Blaine Connolly and his shot was deflected into the net by Telford.
Downpatrick doubled their lead ten minutes later with a well worked goal, Jamie Sharvin and Telford exchanged passes in defence before Sharvin advanced over the half way line. His inch perfect pass curled round the Albert Foundry centre half and into the path of winger Aaron McGarry. As the Foundry keeper advanced to close down McGarry he calmly slotted the ball into the net from an acute angle.
Inside the final ten minutes of the half Downpatrick scored their third of the game. The ball was worked down the right hand side of the pitch to Treacy, he sent in one of his trademark crosses towards the head of Peter Telford but as he was challenged by the centre half the ball was flicked on to top scorer Galbraith. The striker reacted quickest to flick the ball into the net before the keeper could get to it.
Half Time: Albert Foundry 0 v Downpatrick FC 3
The message from the management to the players at half time was to keep their concentration in the second half and keep a clean sheet. Within ten minutes Downpatrick had goal keeper Michael McKenna to thank for keeping Foundry scoreless. The ball was bouncing around a crowded penalty area and the Foundry striker managed to get a shot off but McKenna was alert after seeing the ball late and got down quickly to hold onto the shot.
Downpatrick created numerous chances in the second half but they were unable to add to their first half tally and the game finished three nil. Feeling very pleased after the game the Downpatrick management was quick to acknowledge the defensive display by all the players especially after conceding a few goals recently.
Downpatrick: 1) M McKenna 2) B Fitzsimons 3) C Holland 4) B Connolly 5) N Walsh 6) P Telford 7) B Treacy 8) J Sharvin 9) S Galbraith 10) P Traynor 11) A McGarry 12) R Kerr 14) E Boyle 15) A McCoubrey
Match Sponsors: Mount Ober Footgolf, Belfast