Downpatrick seconds put in a sterling perfomance to earn their first win in three league attempts, click on the link below to read more…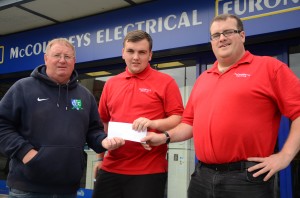 Saturday 26th September – NADAFL Premier Division
Downpatrick Athletic 2 v Newcastle Swifts 1
Downpatrick secured their first win of the season in the Premier Division against newly promoted Newcastle Swifts. Saturdays victory will give the Downpatrick players confidence for the remaining matches, not only did they add goals to this performance but they also played the way they have been training recently with some good passing football.
Downpatrick opened the scoring fifteen minutes into the half, Ryan Fitzpatrick and Shane Matheson exchanged passes on the right wing, the ball was played into midfield to Conor Curran, his perfectly timed pass allowed Ciaran Evans to come in off the left wing and curl a sweet left footed shot into the top corner giving the Newcastle goal keeper no chance.
Newcastle's equaliser came out of nowhere, a long ball forward was controlled by keeper Robbie Hagen on the edge of the box, he passed the ball out wide to Kevin Gracey who tried to play the ball across his 18 yard box but failed to see the Newcastle striker who had the simplest of tasks of putting the ball into the net.
Downpatrick's second goal and match winning goal came ten minutes before half-time, the home side won a free kick just inside their own half. Matthew Carson played a long diagonal ball into the Newcastle box, the Swifts defender rose highest foe the ball near the penalty spot but somehow managed to mess his header and saw it cannon off the post and roll across the line were Downpatrick's number nine Peter Telford was on hand to slot the ball home for his first goal of the season.
Half Time: Downpatrick FC 2 v Newcastle Swifts 1
Downpatrick enjoyed a lot of possession in the second half but couldn't find the clinical touch to extend their lead, both fullbacks Ryan Fitzpatrick and Conaill Kerr were comfortable in possession and offered a threat going forward while centre halves Carson and Gracey kept the Newcastle strikers under control. Any time the forwards did breach the defence Hagen was on hand to thwart any opportunities.
Another positive to come out of Saturday's fixture was the return of Conor Curran to a Downpatrick team after breaking his leg over 18 months ago and alongside midfield partner Chris Magee they both ensured wingers Evans and Matheson seen plenty of the ball and provided enough opportunities for strikers Telford and Conor McCarron.
With the game entering the final fifteen minutes of the game Downpatrick have goal keeper Hagen to thank for keeping Newcastle from scoring. The Newcastle substitute found himself one on one with Robbie Hagen and the home keeper won the battle by standing up and saving well.
Downpatrick: 1) R Hagen 2) R Fitzpatrick 3) C Kerr 4) M Carson 5) K Gracey 6) C Curran 7) S Matheson 8) C Magee 9) P Telford 10) C McCarron 11) C Evans 12) A McCoubrey 14) F Starkey 15) N Young
Match Sponsors: McCoubrey's Electrical, Ballynahinch & Downpatrick