Downpatrick cruised to victory scoring eight goals when they travelled to Islandmagee on Saturday, click on the link below to find out who scored all the goals…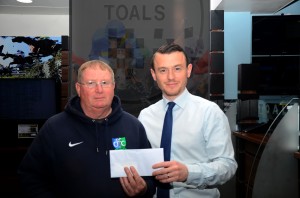 Saturday 26th September – NAFL Premier Division
Islandmagee 1 v Downpatrick FC 8
Downpatrick travelled to Islandmagee on Saturday and put in an impressive scoring performance to score eight goals and come away with all three points. The home side have been the draw specialists so far in the league drawing five out of their opening six league games and Downpatrick never gave them the opportunity to get a foot hold in the game.
Downpatrick scored two goals in the opening ten minutes from two set pieces, the first goal saw Barry Treacy whip in a free kick from the right hand side which evaded everyone except Aaron McGarry who was waiting at the back post to tap in from six yards. Then four minutes later a Christian Holland corner was met by centre half Niall Walsh who powered his header by the home keeper.
The third goal was scored by Eoin Boyle who was making his first start of the season, Stephen Galbraith turned his marker and shot which the keeper saved and Boyle was on hand to tap the ball into the net. Ten minutes before half time the visitors scored their fourth goal, this time top goal scorer Galbraith got on the end of a Treacy cross to divert the ball into the net.
On the stroke of half time Galbraith scored his second of the game, Treacy again was the provider after good work from Ruairi Fitzpatrick in midfield, the winger whipped a dangerous cross into the box and Galbraith rose to head the ball into the net, a truly collectors item scoring with his head.
Half Time: Islandmagee 0 v Downpatrick FC 5
Downpatrick were in no mood to show the home side any mercy and right from the whistle they were intent on scoring more goals, two minutes after the restart McGarry scored his second of the game. Christian Holland delivered another corner and McGarry jumped highest to score with his head. Ten minutes later substitute Ricky Kerr got in on the act, scoring with a well placed header from a Holland corner.
On a rare attack up the field Islandmagee were awarded a dubious penalty after Terence Bell had been judged to have pushed the home side striker. Islandmagee made no mistake from the penalty spot to score a consolation goal. With ten minutes remaining Stephen Galbraith completed his hat-trick from the penalty spot after Holland had been taken down in the box to complete the scoring for the game.
Downpatrick: 1) M McKenna 2) B Fitzsimons 3) C McDowell 4) B Connolly 5) N Walsh 6) A McGarry 7) B Treacy 8) R Fitzpatrick 9) S Galbraith 10) E Boyle 11) C Holland 12) R Kerr 14) G Collins 15) T Bell
Match Sponsors: Toals Bookmakers, Downpatrick