Downpatrick seconds progressed to this years semi-final of the Bobby Dalzell Cup with a spirited comeback against Killough, click on the link below to read more…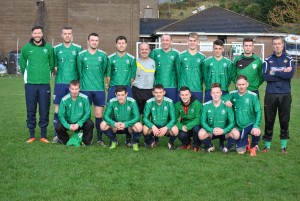 Saturday 7th November – NADAFL Bobby Dalzell Cup Quarter-Final
Downpatrick Athletic 4 v Killough 3
Downpatrick reached the semi-final of the Bobby Dalzell cup with an inspired comeback. In the opening fifteen minutes Killough could have had the game beyond Downpatrick's reach, they raced into an early two goal lead and had opportunities to extend that lead before Downpatrick woke up.
A Conor Kelly double had Downpatrick in trouble, his first goal saw the ball played down the right wing before he cut in and slid the ball past the advancing Johnny Holland. Then two minutes a long was played straight down the middle of the Downpatrick defence, Kelly was quickest to react and his speed helped him race away from the Downpatrick defence and he calmly sent his supporters wild with a cool finish. Killough then had a couple of other opportunities to score but failed to take them.
As the first half wore on Downpatrick slowly began to find their feet and Peter Telford and Conor Curran in the centre of midfield began to dominate the midfield battle. In fact Downpatrick's first goal came via Telford when he rose highest in the box to power home Ciaran Evans' corner. The game now ebbed and flowed without either side creating too many chances.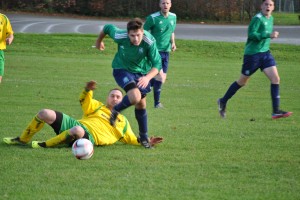 Half Time: Downpatrick Athletic 1 v Killough 2
Some words of encouragement at half time inspired Downpatrick to mount a comeback in the second half. Downpatrick's equaliser was a fortunate strike, right back Ryan Fitzpatrick advanced down the line and his cross come shot evaded everyone including the Killough goal keeper and ended up in the back of the net.
By now Downpatrick had the momentum in the game and their third goal came soon after. Downpatrick forced another corner and again Evans took it. The winger swung the ball deep to the back post and veteran centre half Kevin Gracey jumped to head the ball into the back of the net.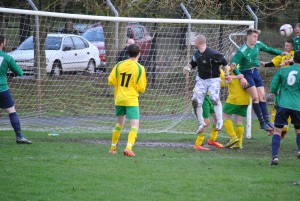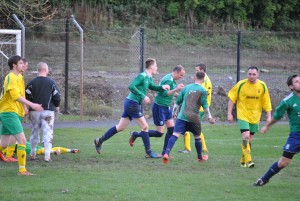 As the game entered the final quarter Downpatrick stretched their lead when the quick thinking Ian Kearney collected the ball near the half way line and played a delightful cross field pass to Ciaran Evans. He took on and beat the Killough defender before slotting the ball into the net giving the Killough keeper no chance.
Killough created a nervy finish for Downpatrick when they pulled a goal back with minutes remaining when a cross from the right hand side was turned in superbly by Aaron Hutchinson. Downpatrick held out for the victory and will now play Annalong in the semi-final in a couple of week's time.
Downpatrick: 1) J Holland 2) R Fitzpatrick 3) C Kerr 4) G Trueman 5) K Gracey 6) P Telford 7) C Evans 8) C Curran 9) P Kerr 10) F Starkey 11) S Matheson 12) S Sloan 14) I Kearney 15) N Cunningham
Match Sponsors: The Golden Chip, Downpatrick