In terrible wet conditions Downpatrick picked up three points from neighbours Drumaness, click on the link below to find out more…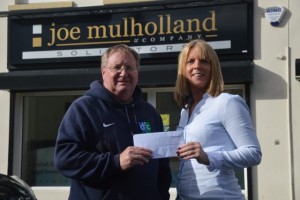 Saturday 14th November – NAFL Premier Division
Drumaness Mills 0 v Downpatrick FC 2
Downpatrick travelled to neighbours Drumaness on Saturday looking to pick up three points, this game was played in awful conditions but thankfully the Meadowvale surface held up to the conditions. Having not played in a number of weeks Downpatrick were slow to get into their rhythm.
In the first half very few chances were created by either side with Downpatrick only creating a few half chances which Drumaness custodian Conan Russell dealt with. With very little goal mouth action happening the battle of midfield between Drumaness' Philip Rogan and Downpatrick's Andy Baggley providing some entertainment, both players showing 100% commitment for their team.
Half Time: Drumaness Mills 0 v Downpatrick FC 0
In the second half Downpatrick began to pose a bigger threat on Drumaness goal and midway through the half they broke the deadlock. The ball was played down the right hand side from Terence Bell to Barry Treacy, the winger beat his man before passing to Eoin Boyle who ran to the by-line before and chipped the ball to the back post for the on-rushing Aaron McGarry to score from 6 yards.
Five minutes later Downpatrick doubled their advantage, Andy Baggley won the ball in midfield and played it to Aaron McGarry. The winger played a first time ball to Ricky Kerr who turned Drumaness centre back Brendan Ward before playing in striker Stephen Galbraith who from a tight angle sent the ball past Russell high into the net.
As the game entered the final ten minutes things began to get feisty resulting in the referee having to dish out a few yellow cards, two of these cards resulted in Downpatrick's Baggley receiving his marching orders. With a numerical advantage Drumaness sensed an opportunity to get back into the game and piled on the pressure but Downpatrick's rearguard of Bell, Niall Walsh, Mark Holland, Christian Holland and goal keeper Michael McKenna repelled all that was thrown at them to ensure a clean sheet.
Downpatrick: 1) M McKenna 2) T Bell 3) C Holland 4) N Walsh 5) M Holland 6) A Baggley 7) B Treacy 8) R Kerr 9) S Galbraith 10) E Boyle 11) A McGarry 12) B Fitzsimons 14) R Fitzpatrick 15) McDowell
Match Sponsors: Joe Mulholland & Co Solicitors, Downpatrick