Downpatrick impressively secured all three points at home today in a much changed line-up, click on the link below to find out more…
Saturday 18th March – NAFL Premier Division
Downpatrick FC 4 v Crumlin United 0
Downpatrick began their final series of games in the run in with a home fixture to Crumlin United, the first of eight straight home fixtures. The home side had to rely on their large squad for today's fixture, with six players coming onto the starting team who didn't feature last Saturday.
One of those players returning was the impressive Barry Treacy who suffered a broken leg before Christmas not that you would have thought it today. He marked his comeback with a trademark free kick on twenty five minutes into top right hand corner after Andrew Telford was fouled.
Ten minutes later Downpatrick doubled their advantage, as good as their first goal was their second goal would have graced any football pitch in the world. A corner was taken by Christian Holland which the Crumlin defence could only send high into the air.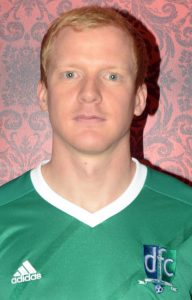 As the ball dropped it appeared that Philip Traynor was going to try and head the ball towards the goal with the back of his head but out of nowhere he connected with an unbelievable overhead kick and ball sailed into the back of the net.
Half Time: Downpatrick FC 2 v Crumlin United 0
Downpatrick had numerous chances in the second half to add to their advantage but a combination of poor decision making and bad luck meant that they were unable to. With fifteen minutes remaining in the match they managed to score their third and secure all three points, Traynor was again involved when he combined with Aaron McGarry down the left wing before bursting into the box and laying the ball back for Conor McCarron who had the simplest task of tapping the ball into the empty net.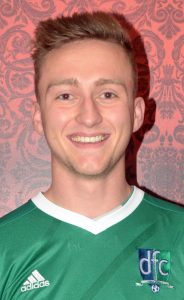 As the game entered the final minutes Traynor scored his second of the game and Downpatrick's fourth. Under 19 player Andrew McCoubrey who has been staring for the seconds in recent weeks was introduced and found himself one on one with the visiting keeper and as the keeper advanced McCoubrey sent a delightful lob goal wards but saw it cannon of the cross bar. Like all good strikers do Traynor was following up and tapped the ball into the back of the net.
Downpatrick will look to build on this performance in the coming weeks as they look to remain at the head of the league, management were also happy today in the fact that they were able to keep a clean sheet. Next up is local neighbours Drumaness Mills next Saturday.
Downpatrick: 1) M McKenna 2) M Carson 3) B Connolly 4) C Holland 5) R Kerr 6) A Baggley 7) B Treacy 8) A Telford 9) P Traynor 10) C McCarron 11) A McGarry 12) Adrian McCoubrey 14) Andrew McCoubrey 15) T McIlhone