Downpatrick under 13's draw with Tollymore Utd on Sunday morning, read more below to find out how…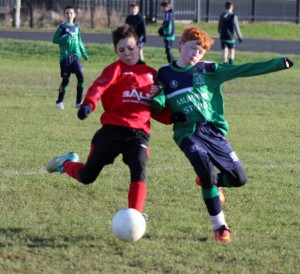 Sunday 18th January – DYFL under 13's
Downpatrick FC 2 v Tollymore Utd 2
On a cold and sunny Sunday morning in Dunleath both Downpatrick and Tollymore served up brilliant game of football in the under 13 League. Both teams tried to get the ball down and play football the proper way, a draw was a fair result based on chances and possession.
Downpatrick started the game well, after last weeks disappointing result they had something to prove and they went one nil up after about fifteen minutes. Tollymore were attacking before Gregory Kelly made a vital tackle, he composed himself and played a great through ball to Ciaran Glennon who was left one on one with the Tollymore goalkeeper. He dribbled the ball to the edge of box and slotted it nicely in bottom left corner. Five minutes before half time Tollymore equalised, Rhys Doyle had a shot which was saved by Downpatrick's Dylan Connolly but Eoin Murray was on hand to score the rebound.
Half Time: Downpatrick FC 1 v Tollymore Utd 1
The second half continued in the same vain as the first with both teams playing some lovely possession football. Downpatrick went back in front, right back Andrew McGrattan played a lovely ball down the wing to centre midfielder Jack Fitzsimons, and he took the ball into the box before and lobbed the Tollymore keeper with a great strike. Tollymore put pressure on for rest of game but couldn't get past Downpatrick's keeper Connolly and his efforts appeared to have earned his side three points. Then with minutes remaining Oran O'Connor was tripped in box after a good run, and the referee pointed to the penalty spot, Conaill Murray placed the ball on the spot and scored with an assured finish.