The under 14's suffered defeat in a seven goal thriller in Saturday's Shield Final against Oxford Sunnyside, click on the link below to read more…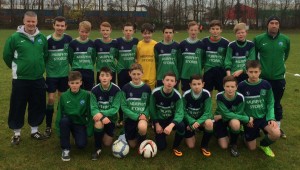 Saturday 27th December – Lisburn Invitational Junior League Shield Final under 14's
Downpatrick FC 3 v Oxford Sunnyside 4
Both teams found it tough going in the opening minutes, with Downpatrick not being able to get onto the ball. This gave Oxford an opportunity to get at the Downpatrick defence and force a corner, which Downpatrick struggled to clear and as the ball came back into the box the Oxford striker pounced to open the scoring. Again from the restart Downpatrick couldn't get a hold of the game, as Oxford continued to put pressure on the Downpatrick defence and got another goal after 18 mins to make it 2-0.
Downpatrick didn't let their heads drop, they started to get control of the ball in the middle of the park, this gave them a bit of confidence as they started to create chances. Ryan Cassidy won a throw in down the right wing, he gave the ball to Brandon Boyd who played it back to him, Cassidy then crossed for Ruairi Quinn to meet at the back post to score and bring Downpatrick back into the game 2-1.
From the restart Downpatrick won the ball back almost immediately, and pressed again and within a few minutes they levelled with the best goal of the game. Cassidy started it again playing out from the back to Boyd then back to Cassidy he then found Kian Tierney who in turn released Ryan Doran down the right wing, he slipped into Eoin Rooney who then passed the ball to Quinn to tap in and level the match 2-2. Both teams just cancelled each other out for the remainder of the half.
Half Time: Downpatrick FC 2 v Oxford Sunnyside 2
Downpatrick started the half on the front foot, with Quinn and Philip Doran causing problems down each wing. As Downpatrick pressed forward they were caught on the counter attack when Oxford cleared to their striker who picked up the ball in his own half and beat 2 Downpatrick midfielders, he then breezed past the defence to finish past goal keeper Shane Campbell from the edge of his box.
Downpatrickdidn't let their heads drop and again playing some lovely football they continued to create chances. They got their reward when Tierney found looney who then crossed for rooney, as rooney attacked the ball the Oxford defender got to it first only to deflect it into his own net.3-3 From the restart Oxford pressed and caught the dpk defence sleeping with a high ball as their winger cooly slotted past the onrushing campbell to make 4-3. In the last few minutes dpk had a penalty claim turned down and rooney missed fom 4 yards as the game slipped away from Downpatrick.