The under 16's secured the first piece of silverware for Downpatrick's youth section, the first in their history, click on the link below to find out how…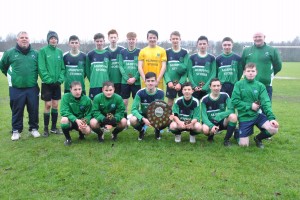 Saturday 27th December – Lisburn Invitational League Shield Final under 16's
Downpatrick FC 2 v Lurgan Town 1
On a cold and wet morning Downpatrick started of the game with most of the possession but no clear chances, Lurgan continued to keep the game at a slow pace. When Downpatrick did lift the pace they created chances, a header just over the bar from Rory Anderson, a shot pulled wide from Callum Sheilds. Andrew McCoubrey was now bossing the midfield and was fouled just inside his own half. Fintan Canavan took the free, launching the ball into the box from a flick on from Ben Campbell the keeper fumbled and James McAleenan reacted quickest to head home.
Half Time: Downpatrick 1 v Lurgan Town 0
The second half continued with Downpatrick in control and again missing chances from Nathan McShane and Ben Curran. After 15 minutes Downpatrick conceded a free 30 yards out and from the ball in it was flicked on into the net giving Canavan no chance.
Downpatrick pushed hard increasing the pace in the game and again had chances spurned from Eoin Darragh and Callum Shields. With 12 mins to go, a good move down the left involving Daniel Kelly and Eoin Darragh before Darragh produced a teasing cross into the box. The Lurgan defence cleared the ball, it came out to Andrew McCoubrey who unleashed an unstoppable strike from 20 yards. Downpatrick had a couple of chances to finish game of, and in the last few minutes Lurgan through everything at the Downpatrick defence but they remained solid and held out for a terrific result. The performance wasn't what the Downpatrick management wanted but the result was important in securing some silverware for the club.