This weeks club notes include information on ALL our training sessions this week, our Golf Day, Soccer Funweek. Click on the link to read more…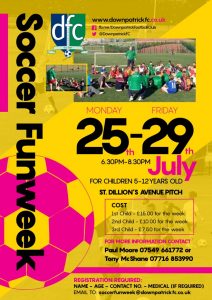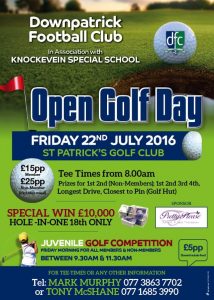 Club Notes – Week Beginning 04/07/16
Pre-season training starts for our senior teams this Saturday 9th July in St Dillon's Avenue Pitch at 10.00am, all old and new players are welcome. Players are asked to bring a water bottle and also trainers & football boots.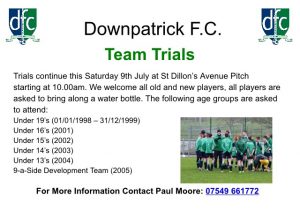 Trials for our underage teams for the season ahead continues this Saturday 9th July, all old and new players are welcome. These trials begin at 10.00am in St Dillon's Avenue pitch and are for children born in the following years: 2005, 2004, 2003, 2002, 2001, 1999 & 1998. If you have any questions please contact Paul Moore on 07549 661 772
If anyone is interested in managing the seconds team in the Premier Division of the Newcastle League this season please contact Tony McShane on 07716 853990.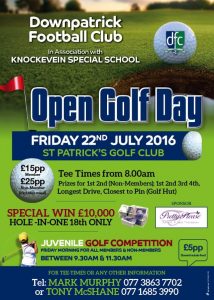 Downpatrick's Annual Golf Day is on Friday 22nd July at St Patrick's Golf Course, tee of times are available from Mark Murphy 07738 637702 or at The Golf Hut. Like last years competition we are holding this competition in association with Knockevin Special School. An added feature to this year's Golf Day is the Juvenile Competition, this is open to members and non-members, and it runs from 9.30am – 11.30am and costs £5.00.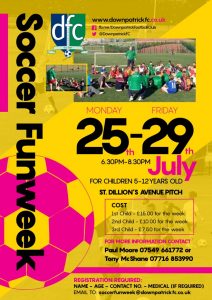 This years Soccer Funweek is on Monday 25th July until Friday 29th July from 6.30pm – 8.30pm in St Dillon's Avenue pitch for children aged 5 years old to 12 years old. The cost for the week is £15.00 for the 1st child in a family, £10.00 for the 2nd child in the family and £7.50 for a third child. Please see website for more information or contact Paul Moore on 07549 661772 or Tony McShane 07716 853990.
The ladies team played Ballynahinch Ladies in Dunleath last Wednesday night and came out the victors in a hard fought match despite losing one nil at half time. Two goals in the second half from hot shot Morgan Shannon ensured all three points for her team. This week the ladies travel to play Craigavon Ladies on Wednesday night, this match kicks off at 7.30pm. All support welcome.
Downpatrick FC are looking for new coaches/volunteers, you can help out by managing or coaching a team, by co-ordinating the Social Media or our club Website. We are dedicated to putting our coaches/volunteers through Coach Education Courses, any equipment or gear will be provided by the football club. If your interested in coaching and/or volunteering you are more than welcome to attend this meeting or if you can't make the meeting or want more information please contact Tony McShane 07716 853990.