Downpatrick Athletic make it two games in a row with a late goal, click on the link below to find out how…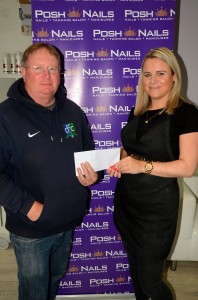 Saturday 3rd October – NADAFL Premier Division
Tollymore United 0 v Downpatrick Athletic 1
Downpatrick travelled to Bear Park in Newcastle on the back of their first win of the season last Saturday looking for another three points. The game was played in superb conditions and it was the visitors who looked most dangerous throughout.
Downpatrick were able to play with the same core group of players for the second game running for the first time this season. This togetherness and cohesion showed in their general play as the players seemed to gel and create numerous chances for the strikers Conor McCarron and Frank Starkey.
In midfield Conor Curran was putting in a man of the match display
with his surging runs and ability to be in the right place at the right time to break up any Tollymore attacks. He was ably assisted by youngster Christopher Magee, Ciaran Evans and Shane Matheson in midfield.
Half Time: Tollymore United 0 v Downpatrick Athletic 0
Pretty much like the first half both defences were on top, making last minute tackles and vital blocks to thwart and shots from going in. Downpatrick's defence of Ryan Fitzpatrick, Matthew Carson, Kevin Gracey and Conaill Kerr were excellent for the full 90 minutes, giving much needed protection
to goal keeper Robbie Hagen who only had one shot to save in the whole game.
With the game entering the last few minutes it looked like all Downpatrick's possession and effort was going to be in vain but with minutes remaining they won a corner kick. Shane Matheson's delivery
caused panic in the Tollymore box and after a scramble in the six yard box Frank Starkey was on hand to score head the ball home for his first of the season.
Downpatrick: 1) R Hagen 2) R Fitzpatrick 3) C Kerr 4) M Carson 5) K Gracey 6) C Curran 7) C Evans 8) C Magee 9) C McCarron 10) F Starkey 11) S Matheson 12) S McMahon 14) P Kerr 15) R Kerr
Match Sponsor: Posh Nails, Downpatrick