Downpatrick under 14's recover from a two goal deficit only too see a point snatched away in the dying minutes, click on the link below to read more…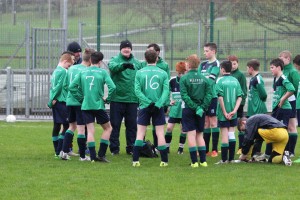 Saturday 14th November – Lisburn Invitational League under 14's
Downpatrick FC 2 v Tollymore 3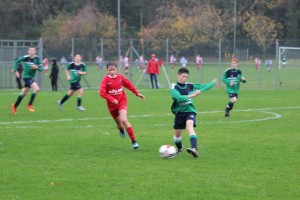 Both teams should be applauded for the style of football they played in such horrible conditions. Each team played an expansive passing game on an excellent playing surface in Bear Park. Both teams cancelled each other for the first ten minutes, creating some good link up play, but, the defence of both teams stood firm.
Tollymore were getting chances and moved the ball better than Downpatrick FC. The Tollymore forwards were very creative; Sean Og Burns, Brian Kennedy, Andrew McGrattan and Dylan Connolly could not prevent the attacking play and the forwards made the chance and scored the first goal from an acute angle.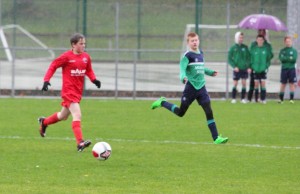 Downpatrick were quick to reply, Andrew McLean had a shot, but, it was weak.  Oran Bolton, Ethan Breen, Liam Toner, Connor Rogan and Tom Savage were linking up well trying to create forward play, but, they had no answers to Tollymore resolute defending.  Bolton, Connail Gardiner and Savage were working well down the right flank, but, the final pass was missing and play broke down.
Jack Fitzsimons, Ethan Artt and Nathan Maguire were brought on, but, were unable to have any impact on the Tollymore play. Tollymore were pushing more and more and they scored another goal just before half time.
Half Time: Downpatrick FC 0 v Tollymore 2
More changes at halftime saw Colin Jones and Eamon Gargan enter the fray. Both teams continued in the same vain both playing attacking football. Downpatrick FC pushed hard, Bolton received a pass just inside his own half and he ran past 7 Tollymore players before he slotted the ball home to score.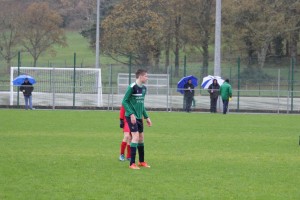 Downpatrick had the bit between their teeth now.  Savage and Rogan were dominating in midfield, Gargan, Bolton, McLean were working hard down the left flank. Og Burns, Kennedy and Gardiner were controlling play from the back. Gardiner had a driving run and was brought down outside the box for a free kick. Fitzsimons dummied the ball and Bolton rifled the ball home into the top corner.
Tollymore were finding hard to deal with the Downpatrick play, but, they weathered the storm.  McLean, Artt, Bolton and Savage were attacking Tollymore, but, they could get past the defence or the goalkeeper. In the last few minutes Tollymore had the upper hand. Poor defensive play allowed for a free kick for Tollymore just outside the penalty box. The Tollymore stepped and hit an unbelievable shot into the top corner. Again, Downpatrick pushed, but, could not find an equaliser. The game finished with another attack for Downpatrick, which petered out.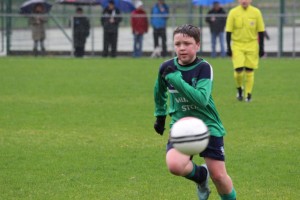 After the game the Downpatrick management agreed that, ''it was a great game to watch, a draw would have been a fair result for both teams, but, not to be for us. It was a good advert for two local teams playing a high standard of football in terrible weather conditions from County Down in the Lisburn League''.