Downpatrick progressed tho the third round of this years intermediate cup on Saturday with a convincing performance aginst Championship side Dundela at Wilgar Park, click on the link to read more…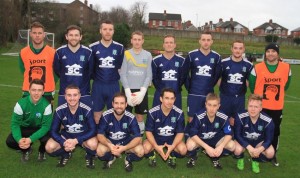 Saturday 19th December – IFA Intermediate Cup 2nd Round
Dundela 1 v Downpatrick FC 4
Downpatrick travelled to Wilgar Park on Saturday looking to progress to the third round of this years Intermediate Cup, standing in their way was Championship side Dundela. Both teams started the game well, creating opportunities at both ends of the pitch.
It was Downpatrick who broke the deadlock on 12 minutes, the commanding Mark Holland played the ball over the top of the right back for winger Stephen Galbraith to run onto. He instantly controlled the ball and played the perfect ball for striker Eoin Boyle to shoot and hit the post before rebounding off the Dundela goal keeper and into the net.
On the half hour mark Downpatrick doubled their advantage and it was that man Boyle again who scored. A Holland pass over the defence found Boyle who beat the offside trap and before the advancing keeper could close him down the number nine slipped the ball past him to score.
Half Time: Dundela 0 v Downpatrick FC 2
Stephen Galbraith collected the ball on the left wing, a great piece of skill saw him take it round the right back and just before he could cross the ball the defender got back and fouled him. Galbraith dusted himself down and whipped in the free kick, Ricky Kerr made a perfectly timed run and managed to flick the ball on to the back post where Peter Telford was waiting to score and make it three nil.
Midway through the second half Telford scored his second of the game, his first time effort was saved by the Dundela keeper who pushed it away for a corner. His brother Andrew who had been introduced as a substitute minutes earlier took the corner and played it to the near post were Peter scored with a diving header giving the Dundela keeper no chance.
Dundela scored a consolation goal in the last ten minutes when Downpatrick failed to clear a corner and the Dundela player managed to get a shot in which cannoned of the post into the path of the waiting Matt Burrow to tap into the net. A comprehensive performance from Downpatrick saw them progress to the third round with every player playing their part.
Downpatrick: 1) M McKenna 2) B Fitzsimons 3) A McGarry 4) N Walsh 5) M Holland 6) A Baggley 7) R Fitzpatrick 8) R Kerr 9) E Boyle 10) P Telford 11) S Galbraith 12) A Telford 14) A McCoubrey 15) G Collins