Downpatrick's hopes of a Christmas Final are ended at the Semi-Final stage bu Annalong Swifts, click on the link below to find out how…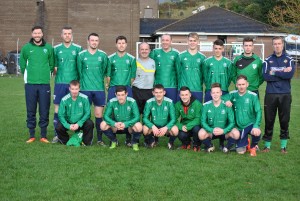 Saturday 21st November – NADAFL Bobby Dalzell Cup Semi-Final
Downpatrick Athletic 2 v Annalong Swifts 3
Downpatrick's hopes of reaching their first ever Bobby Dalzell Final were dashed by a confident Annalong team. This game was played at Bear Park on Saturday and the pitch was in perfect condition for both teams.
Annalong settled quicker into the game and within five minutes they found themselves in front. They attacked down the right hand side through Stephen Burden and his cross found Darren Hyland at the back post to give Downpatrick goal keeper Johnny Holland no chance and open the scoring.
Annalong's goal served as a wake up call for Downpatrick and ten minutes later they were level with a penalty. Left back Conail Kerr placed the ball on the spot and expertly dispatched his penalty giving the Annalong keeper no chance, this was after striker Frank Starkey was upended in the box.
Downpatrick were in control of the game and created a few half chances and on the half hour mark they went in front. The 'Greens' won a freekick on the edge of the box, Kerr's shot was saved by the Annalong keeper but Shane Matheson was in the right place to tap the ball into the net.
Half Time: Downpatrick Athletic 2 v Annalong Swifts 1
As expected the Swifts came out in determined fashion and applied some pressure on the Downpatrick back line but Ryan Fitzpatrick, Stephen Sloan, Kevin Gracey and Kerr stopped them from getting any shots in on Holland. Then ten minutes into the second half both teams were reduced to ten men from a bizarre incident. Downpatrick had won a throw in and as Conor Curran tried to get the ball the Annalong player refused to give it to him, both players pushed each. Downpatrick took the throw in then for the linesman to wave and instruct the referee that both players must go for throwing a punch much to the amusement of both teams.
The sending off affected Downpatrick more as Curran was having a fine game in midfield and mid way through the half Annalong equalised. A fine solo effort from Matthew McConnell, he was allowed to burst through from midfield before coolly finishing in the bottom left hand corner.
As the game entered the final ten minutes both teams were frantically trying to find that winning goal and it was Annalong who managed to get it. Mark Newell beat two Downpatrick defenders before hitting a shot which hit the post and deflected of keeper Holland into the path of Burden who bundled the ball into the net. Downpatrick tried to find an equaliser and almost did with two minutes remaining but Peter Telford's effort was just off target.
Downpatrick: 1) J Holland 2) R Fitzpatrick 3) C Kerr 4) S Sloan 5) K Gracey 6) P Turley 7) C Evans 8) C Curran 9) P Telford 10) F Starkey 11) S Matheson 12) P Kerr 14) G Trueman 15) N Young