All roads lead to Seaview tonight as the first team take on Crumlin Star in the second Semi-Final of the Border Cup. Read more to find out who tonights sponsors are:-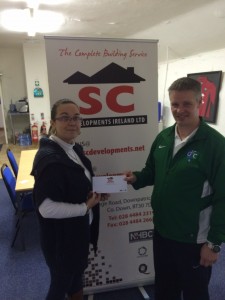 SC Developments Office Manager Esther McMenamin presents Tony McShane with a sponsorship cheque for tonight's Semi-Final match tonight on behalf of Company Owner Stephen Chapman.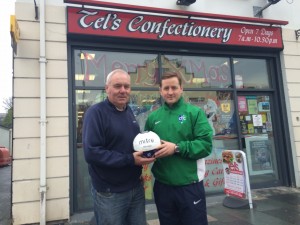 Alan Telford from Tel's Confectionery in Downpatrick presents joint first team manager Joe McMahon a Match Ball to be used tonight in the Semi-Final. Alan is hoping one of his two sons (Andrew and Peter) will be scoring tonight with this ball and securing a Downpatrick win.
All at Downpatrick Football Club would like to thank SC Developments and Tel's Confectionery for tonights sponsorship and all the football clubs other sponsors for their continued support to the club, it is really appreciated.